Our Favorite Epson EcoTank Printers For 2020
If you run an office, the last thing you want to think about is the printer. When you're in a meeting, you should not be thinking if you're going to have to send someone down to the office supply store or take time out of your busy day to make an order for more ink. Epson has thought about these office situations and released a new style of printer to prevent those annoying office supply store runs. Epson EcoTank printers are designed to save businesses from having to refill expensive cartridges or frequently go out and buy new ones. If you find yourself running out of ink when you need it most, the Epson EcoTank is for you.
How does Epson EcoTank work?
Epson EcoTank is way different from the normal way you put ink into a printer. In the past, you'd have to deal with cartridges that you put into your printer that never seem to have enough ink. Before you know it, you're headed out to the office supply store or waiting two days for Amazon to deliver it out to you. Meanwhile, at the office, print jobs are looking less than their best, with faded colors and inconsistent application of ink. The Epson EcoTank promises to change this aggravating situation. With the EcoTank printer, you use refillable ink tanks instead of cartridges.
Filling your printer with ink has become a breeze. You might be thinking, how can filling up a printer with ink be easier than just putting the cartridge in? Epson has certainly found a way! With the special bottles of ink for EcoTank printers, you have an easy spout that you can invert into the relevant ink well, making for an easy way of inserting new ink without the possibility of a gross mess arising from ink spilling everywhere. Considering how much money you'll save with an EcoTank printer, the ease of use just adds to why you should purchase one for yourself.
One of Epson's biggest promises with their new printer line is a way to reduce ink costs. When printing ink from traditional cartridges, we estimate a cost of 15 to 20 cents per page. That's quite a costly sum for a task as standard as printing. However, Epson boasts massive savings and promise to make things a lot more cost-efficient for offices that print a lot. The EcoTank can print at an average cost of only 1 cent per page. That's quite a substantial savings and a definite reason to look at the EcoTank line.
Epson promises a significantly simplified and cost-effective printing experience with the EcoTank. Has Epson found a way of saving on ink costs while still delivering as good or better print quality when compared with cartridge printers? After playing around with several of these Epson EcoTank printers, we can safely say that they have.
Does Epson EcoTank ink dry out?
There might be a question on your mind as you think over the difference between traditional cartridge printing and the innovative new style of the Epson EcoTank. You might be thinking that if you put all that ink into the tank and let it sit there for a long period of time, it will evaporate and leave a crusty mess that is hard to clean away. There's no reason to fear, however. Ink left in the well of the ink tank on the EcoTank doesn't dry up and will not evaporate.
Still, there's something that you should take into account when using the EcoTank. While the ink in the well will not evaporate, you still want to keep the printing heads slick with ink. To do this, you should print something out at least once every few weeks to keep your print quality looking its absolute best.
How long does Epson EcoTank ink last?
The main advantage in EcoTank ink when compared to the ink you get out of the cartridges is the long life of the ink in the tank. Epson boasts an impressive two-year lifespan out of its ink tank system. Of course, what might be two years to a small operation being run out of a home is very different from two years to a big business that's printing hundreds of sheets a day.
Epson claims that with select replacement units for ink, you can print up to 7,500 sheets in black and white or 6,000 sheets in color. When you break down those numbers, that is at least several dozen cartridges that you will have to take time out of your busy day to go get or wait to ship to you. No matter the size of your business, the Epson EcoTank system beats going from the cartridges.
On the other hand, let's consider what it takes to run through the average ink cartridge. Looking at other cartridge manufacturers and the numbers they quote aren't that hot. Most are under 300 pages per cartridge. Some run as low as 150 pages and then you're off to the office store again, buying more cartridges to put into the printer. Why mess around with such a hassle? The Epson way of buying ink makes much more sense because not only are you getting more bang for your buck, you're also avoiding the aggravating process of refilling the printer with cartridges way too often.
Here are some of our favorite Epson EcoTank printers
We had the opportunity to look at some of these powers of page yield and got a great feel for these machines. In terms of inkjet printers, these are some pretty useful ones and will make any home or office setup more efficient. After taking a look at several models, here are some recommendations sure to help your office update the way it does business.
The Epson ET-2720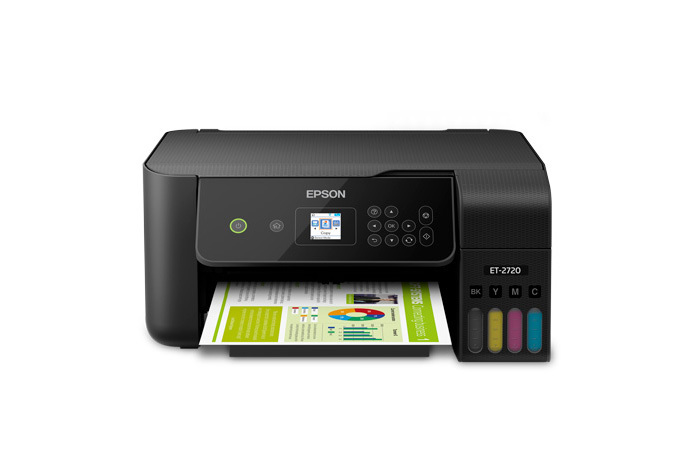 The ET-2720, the most basic of the EcoTank models, still packs quite a few features. It is an all-in-one printer, capable of printing, copying, and scanning. Because of the deep ink tanks on this model, it can print an immense number of pages, up to 4,500 from a replacement ink set. Note that this is not quite as high as the 7,500 pages that you can print on some of the more fancy models, but regardless, you should be getting significant bang for your buck from this printer.
However, one thing you should keep in mind is that it can't hold very many sheets of paper. Epson claims that it can fit up to 100 sheets into the ET-2720's printer bay, but many customers claim that the true figure is closer to 50. Still, if you have relatively small print jobs in an environment like a home office, this is a fantastic printer for the price.
The Epson ET-2760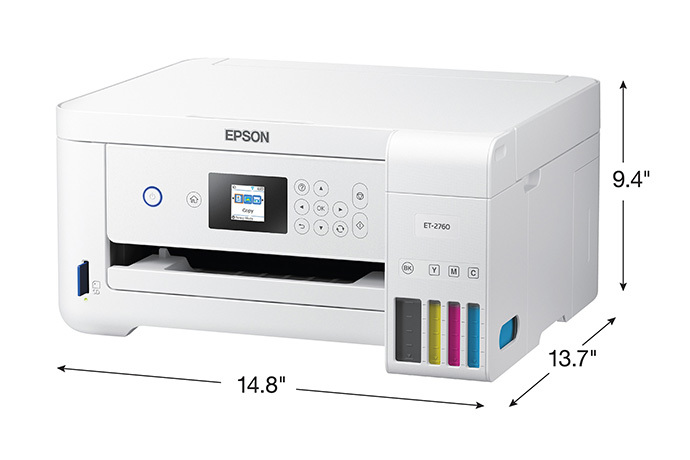 The ET-2760 is a small improvement over the ET-2720, providing medium-sized businesses with a more workable printer solution. The ET-2760 is able to print 7,500 black and white or 6,000 color pages, for one. It also comes with a fancy feature known as voice-activated printing. You can connect your printer to one of your connected smart home devices, such as Alexa or Google Home, to automate printing tasks without needing to go to a computer. Finally, you should know that the ET-2760 also comes with double-sided printing capabilities, meaning if you want to reduce the number of sheets of paper you use, you have a very useful option at your disposal.
The Epson ET-3760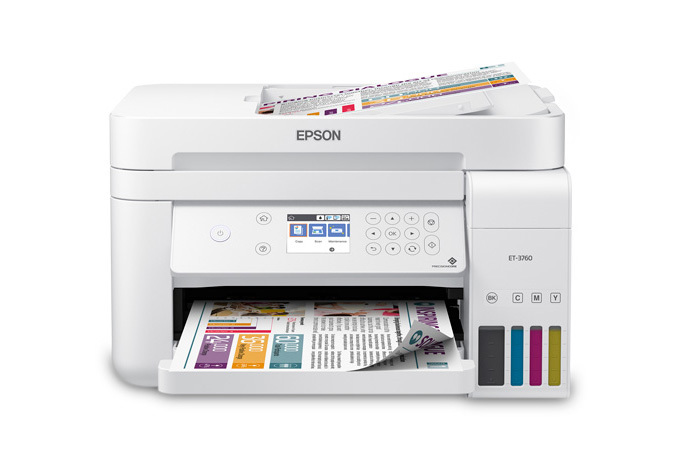 Moving up a little bit is the ET-3760, which works well for businesses who need a little bit more printing power. One noteworthy feature of the ET-3760 is the larger wells for ink, which means you will have more time in between refills. The ET-3760 is a wired and wireless printer, fitting in seamlessly to any style of business. Also of note is the automated document feeder in the ET-3760, which means that if you're scanning or faxing a document with multiple pages, you don't have to manually load each page in. All in all, this is a pretty substantial business printer that is sure to make the goings-on at your office smoother and more efficient.
The Epson ET-4760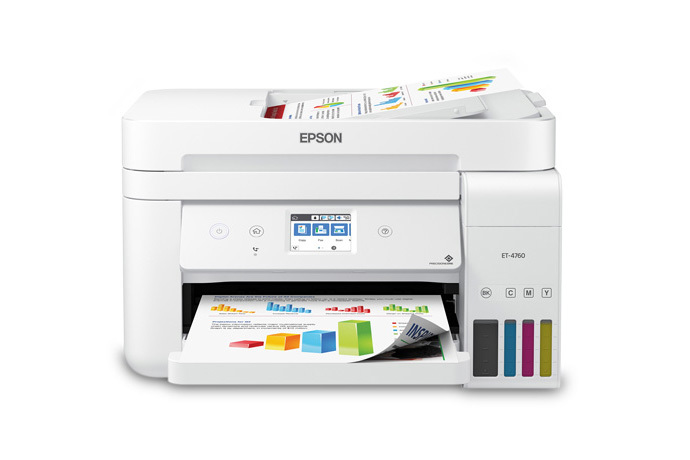 This is the biggest and best of the Epson EcoTank models, providing the most features and giving the customer the fullest range of solutions to whatever problems face them. Not only is this printer equipped with a larger printer bay than other models (Epson estimates this printer can hold 250 sheets at a time, though we'd recommend starting with a smaller number of sheets), it has a large touchscreen that makes for an easier way of starting out jobs. It also comes with the automated document feeder that the ET-3760 has, giving business owners simplicity when trying to scan or fax multiple documents. What's more, it boasts a faster print speed than the other models, with documents on the ET-4760 coming out at 15 pages a second for black printing and 8 pages a second for color printing. If you own a business and are looking to optimize your printing situation, this is a great place to start.
What else should I know about Epson EcoTank printers?
One big topic when people talk about the EcoTank printers is the matter of how much noise the printer makes when it is printing. While the EcoTank line certainly isn't the quietest of printers, they aren't so loud you can hear them two rooms away. However, if you're looking for an exceptionally quiet printer, maybe you can find better options elsewhere.
Another important consideration in picking a printer is print speed. Everyone's been in a position where they need something to print quickly but the printer is going so aggravatingly slow. Epson's EcoTank printers are relatively quick, producing somewhere around 10 to 15 pages per minute on the black setting while getting a rather efficient 5 to 8 pages per minute with color printing.
There is one final note on the print quality that you should probably consider before buying an Epson EcoTank printer. Even though it is one of the best inkjet printers you can buy on the market and provides you with many more print jobs than a typical cartridge-based inkjet system, it still is just an inkjet printer. That still means that the print quality will be less than a comparable laser printer, so if you're spending money on toner cartridges and aren't willing to take a slight hit in print quality to save money, you might want to stick with your laser printer.
That being said, there are many things to like about the Epson EcoTank printers. They are easy to load, their ink lasts for a long time, and customers really seem to like this new way of managing ink in a printer. Whether you're a home consumer who uses a lot of paper or a business that needs to optimize its printing solutions, we wholeheartedly recommend the Epson EcoTank printer as an option for whatever your printing needs are.
Buying An Epson EcoTank Printer
If you're looking to take advantage of the savings and efficiency of an Epson EcoTank printer you've come to the right place. BlueDogInk.com carries a huge selection of Epson printers including a wide range of EcoTank models. Not sure which printer is best for you or your business? Feel free to give our experienced customer support team a call and we can help you pick the right one for you.